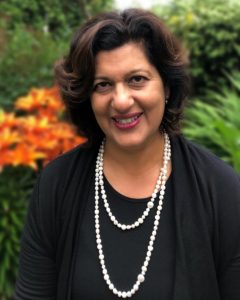 With over 25 years of combined training and professional experience in law, social work and mediation, Shelina Neallani has a unique blend of skills and knowledge in dispute resolution. She will work in collaboration with other mediators, lawyers and social workers on a case by case basis once assessing your service needs.
Shelina graduated from UBC with degrees in Social Work and Law and has been called to the Bars of Ontario and BC. Shelina is a member of the Family, Civil and Child Protection Rosters with Mediate BC, is an accredited Family Law Mediator and Arbitrator with the Law Society of BC and a registered Social Worker with the BC College of Social Workers. In addition to her private practice, Shelina is a consultant specializing in projects related to dispute resolution and policy development. Recent consultancy examples include projects on justice transformation initiatives where Shelina collaborated in developing, implementing and/or managing DR projects as well as knowledge engineering of online dispute resolution processes. Shelina is a published writer and has taught at the post-secondary level.
Shelina Neallani can help you discuss and make agreements regarding a wide range of disputes including MVA, construction, contract, business, employment, as well as address conflict within the family or issues arising from separation and divorce.
As a published writer, and established speaker/trainer and sought after management consultant, Shelina Neallani will assist you and your organization with subjects related to mediation, conflict resolution and the law, including training and coaching.
Contact Shelina to discuss your requirements.